i hate my life. its and expression tho i dont actually hate my life. its actually going great what with scott cawthon releasing a new game and pyro- illusion coming out on the 31st. in case you don't know what pyro illusionis then here is the link to the trailor of the game.
https://www.youtube.com/watch?v=ftiKU0Y5Bio
if you can't watch it i am sorry, but hopefully you know how to copy and paste. its bassically a fan made game about the c.e.o. of fazbear entertainment gives all the scraps of the original anomatronics to a guy who he is asociated with who will remake them into more advanced anomatronics. now, onto why i so called "hate my life." i know this was probably anounced a LONG time ago. i know because i checked the day it was posted and it was a long time ago. i thought that the creator of one night at flumpty's was going to make one week at flumpty's and i check again this morning after a long while and i see this spawn of the demon!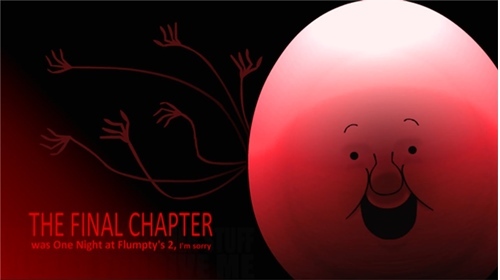 you see that small text? that right there crushed my dreams. do not yell at me for not noticing this earlier. i am still trying to process the fact i am only going to play 2 games from this series now. your probably wondering: why should we care? well i don't really care if you don't. posting things calms me for some reason. anyway thats all i have to say for now and i will be making more of these probably.
yours truly,
-R3DBULADDICT64